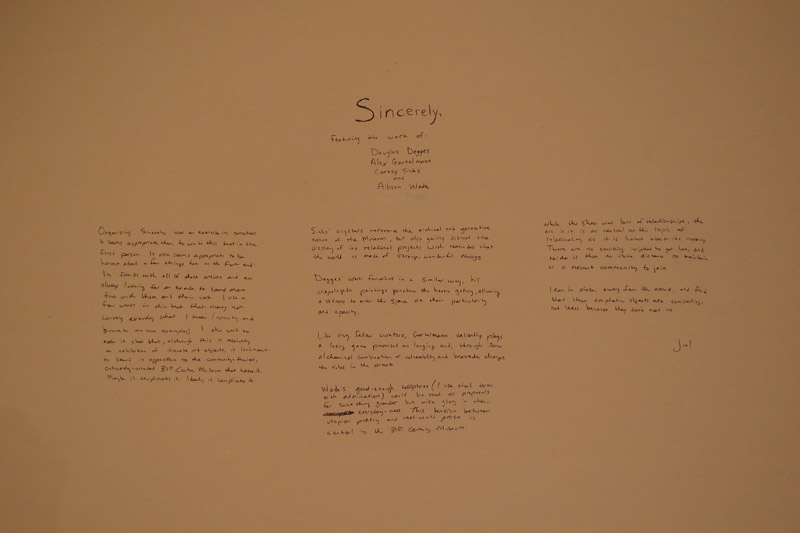 "Sincerely"
Installation Date: Nov 2-3
Show: November 4 – December 23
Opening Reception – Friday 11/4 – 4pm-6pm
Curator: Joel Parsons
Artist: Alex Gartelmann (SAIC), Allison Wade (SAIC), Corkey Sinks (SAIC), and Douglas Degges (University of Iowa).
The show will be called "Sincerely," and comes from thinking about the way the Museum privileges sincerity over cynicism, and also about how few traditional art objects are included in our show. I want to see how self-conscious art objects can function in the environment that we've created, so I found four artists who all deal with sincerity in the content or methodologies of their work. I'm hoping to to open up dialogue, make the space more dynamic, and include more people and points of view in our discussion. The show will hopefully open up conversations about their work, but also about my relationship to them, and their work's relationship to other aspects of the Museum, and the Museum's relationship to sincerity.
-Gartelmann will show two framed drawings made in collaboration with his father, Wade will show one screen print on plexiglass (wall mounted) and one small wooden sculpture (on floor or low pedestal), Sinks will show multiple cardboard crystal constructions that will be spread throughout the space and affixed with small nails or museum wax depending on the surface, and Degges will show three small paintings. Much of the work is either being produced right now, or being shipped right now. I can get images soon.
– Work will be spread throughout the space, using walls (or sections of walls) that are currently empty. The work in the exhibition will be visually unified by swatches of peach paint (same color as my blackboard) that will accompany each piece. Identifying information will be hand written on each swatch.
– A curatorial statement (to be completed in the next week) will be written on my blackboard.