รถเมย์ธรรมมะ
นายสุเทพ เอี่ยมอัมพร
Language : ENGLISH : THAI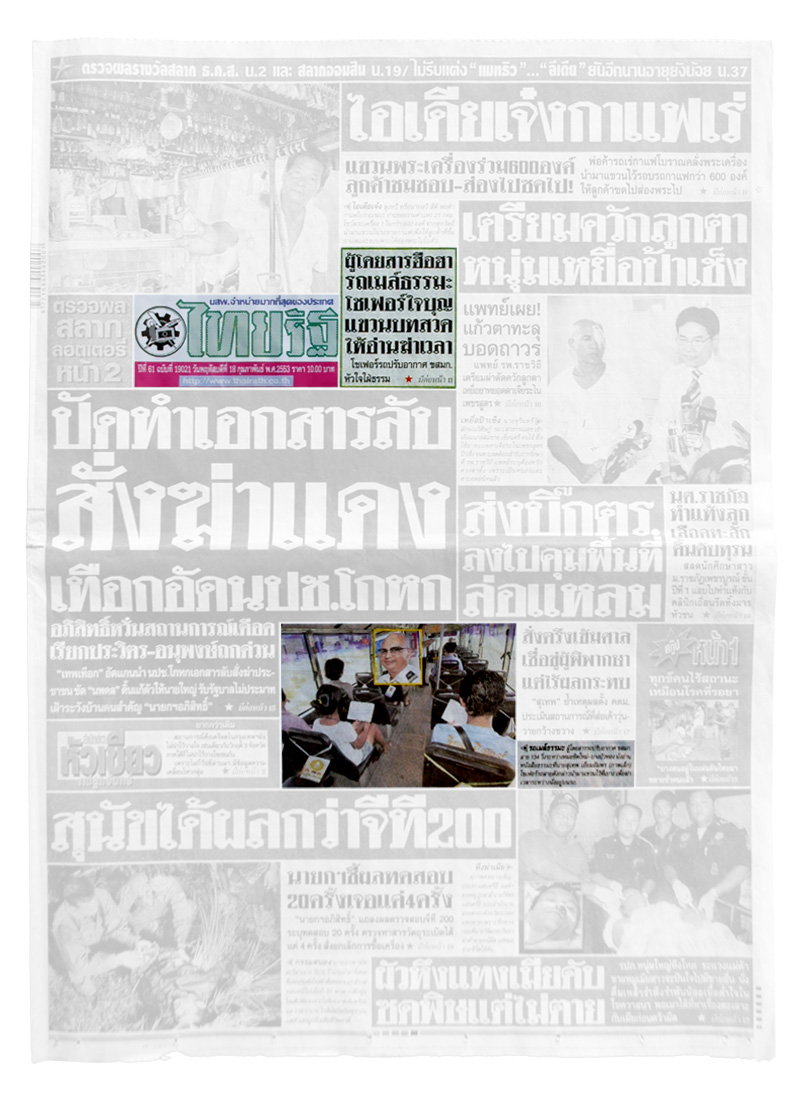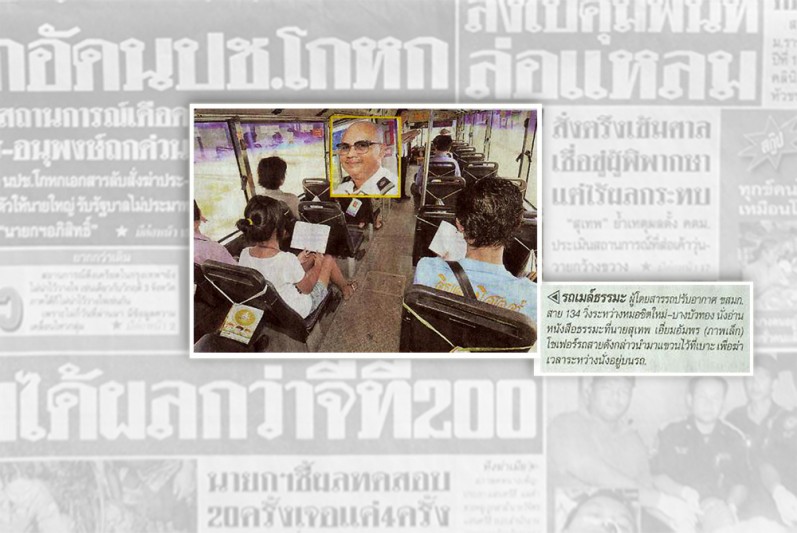 Dhamma Bus Passengers. The bus driver hanged Buddhist mantras books to passenger's seats for reading.
The bus driver of Bangkok Mass Transit Authority – BMTA is one with a Dhamma heart. He tied Dhamma books to each passenger's seat for them to read as a time killer in traffic jams. He revealed that this was an act of salutation to His Majesty the King, Bhumibol Adulyadej, while there's no use for his books to lie around at home. The passengers admired his thoughtful idea. Hence, some even asked to bring the books back home for further reading.
The Dhamma inspired bus driver brought almost a hundred of Dhamma books for his passengers to read as a time killer in traffic jams. The story of this bus driver was revealed on February the 16th,when a reporter went to BMTA depot line No.134, located at Bang Bua Thong, Nontaburi province, and found the MoChit Mai – Bang Bua Thong route bus driver, Mr.Suthep Iemumpawn who was diligently stringing Dhamma books with plastic ropes into groups of two. These book's contents varies from biography of famous monks to praying mantra chants. The books would then be tied to all 45 passenger seats on his bus.
For 12 years now, this AC.134 route bus driver has been driving for BMTA. His family frequently does Buddhism merit making. Whenever they attend to the Buddhist temples, they would often receive Dhamma books, which the family has been collecting them, both by distributed and bought, for over ten years now. Until last year, when Suthep and his colleague went to present robes for the monks at the end of Buddhist Lent in Chiang Rai, he happen to saw a project about merit making in salutations to His Majesty the King, Bhumibol Adulyadej. He came back home pondering about what he could do in order to give his salutations without exploiting his family and himself. Thus he thought of this idea, which is to let his passengers read the Dhamma books that his family collected. At first he was quite afraid that the passengers would not read them. But to his surprise, the passenger's response on the first day was very good. Many passengers admired this deed, which encouraged him to do it further more.
Suthep further stated that many passengers have been taken by reading these books. Many of them would come up to him when they reached their stop, and ask if they could take along the book they were reading. In these cases, he would give them away and replace them with more books from home. Some of the passengers, who have Dhamma books at home, would give their books to him. Most of the books are biography about famous monks or their teachings.
The bus driver said he would untie the books and pile them neatly after the day is done. Each morning he would tie them back again to the seats again as a daily routine. It is nothing much, but he feels happy and content to do so. The reporter asked him if it deplores him in giving away the books he's collected all these years. His reply was no, because if the books were kept at home, only he alone would benefit from it. But if many others read the books, they could also benefit from it. They would understand the teachings of the monks and discipline their mind. He himself often goes the temples and absorbs Dhamma teachings, which made his life better. Once a hotheaded person, Dhamma has turned him to become composed and rational. Thus he hopes that others could also attain Dhamma.
The reporter asked him has any books been stolen before, he replied never. The books were asked before given away. There was a rare book about history of all the main temples in Thailand that was published more than 40 years ago; it was also tied to the passenger seats. One student wanted to take it to use as a reference for his report, though Suthep felt a pity but he still gave it away. Other than this, there once also was a Muslim who asked for one of the books in order to read and reach a better understanding of Dhamma. Now, the bus driver is emphasizing books about the gratefulness that His Majesty the King, Bhumibol Adulyadej has towards his mother, which he'd photocopied them into several copies for his passengers to read. He admired how His majesty the King would find time to share meals with his mother five days a week despite of all his duties, and how others could not achieve so.
Mr.Sakorn Rungsawat, Chief of bus operation zone 7, expresses that he is proud of how his employee spreads the Dhamma teachings to bus passengers. It is a good thing if a member of BMTA has love for Buddhism and righteousness, it will help improve BMTA's service and lessen the passenger's complaints, encouraging a better relationship between the public and BMTA. This is a good role model for other bus drivers at BMTA.
Mrs.Natnappat Sumrum, a ticket collector of this bus remarked on how praises has been raised ever since Suthep brought the Dhamma books on the bus. They could spend their time in a beneficial way while waiting for traffic, because Dhamma helps to calm and discipline the mind.
Mr.Manop Achawawanichkul, a private entrepreneur age 62 is one of the regular passengers. He prasies the bus driver's idea in bringing the passenger Dhamma books to read during traffic jams, because it helps to calm the mind and decrease frustrations. Furthermore, he would also like to donate some of his Dhamma books at home to Suthep, so that other passengers could also read them. Meanwhile, Mrs.Aranya Sompluek, a 36-year-old banker remarked that in the past, she wasn't interested in Dhamma books, until she hade the chance to ride this bus. She exclaims how wonderful it is to have Dhamma books for passengers to read, which allows one to spend their time on the bus beneficially and also gain some Dhamma wisdom as well. She claims that it would be great if other BMTA buses could follow the same.
Thairath Newspaper
Thursday, 18th of February 2010.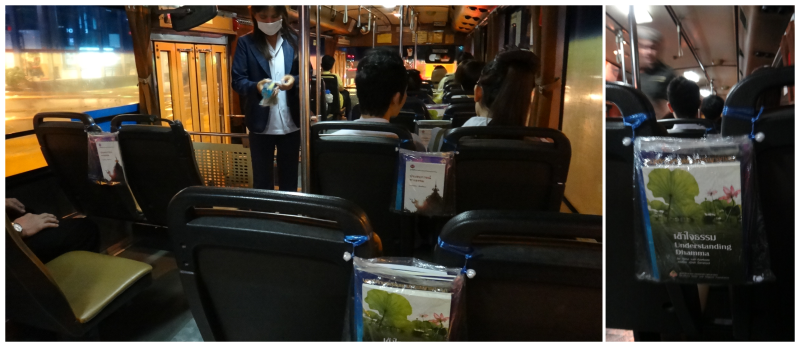 The Bus Driver and Dharma Books
This bus driver, for me, is one who has high public mind. For what he does is more than just working his shifts, getting paid and driving a bus. He respects and care for others. He gives importance to time and space, to the people he serves and the job he does. He thought of a way he was capable of doing. It was simple, useful to the society and needed not much money. He tied the Dharma books he had to passenger's seat, so that the passengers could read them in traffic jams. The time spent on the bus was not wasted. The bus was like a moving library. If anyone wanted the books, he would give it to them.
What he does is being responsible to the society in what he is capable of, under the limits of himself and of the environment. If this kind of thought increases in the society, it could help to solve limiting problems.
This bus driver is a very good example in creativity and making use of time. He has a public mind, an inspiration that vibrates on to others.